---
Christmas Ordering
The last date for online orders for Christmas delivery is Tuesday 5th December.
If you require Christmas delivery after that date please call on 0800 756 1036 so we can confirm if delivery will be in time.
---
Testimonials
The chairs and stool have arrived and can I take this opportunity to thank you very much indeed. The whole process has been seamless but the outstanding thing is the workmanship that has gone into them. It is quite unbelievable actually. A true craftsman. I donít think I have come across such perfectionism, what a skill! They are beautiful.
Many thanks again, they are now in pride of place on the terrace, and look forward to enjoying their comfort for years to come.
I supplied 2 Classic chairs and a matching footstool to this customer in East Lothian in June 2023
---
My chair arrived today and I have already assembled and sat in it. What a beautiful and beautifully handcrafted piece of furniture - thank you. Having had a couple plastic versions of this chair for a few years I knew it would be comfortable (and it is but much more so!) I decided to treat myself on my retirement. Here's to years of comfy relaxing in the garden together.
Many thanks for your expertise, great communication during the purchasing process, a really well packaged (but not overly packaged) parcel and great instructions for assembly.
I supplied a Basic chair to this lady in Devon in May 2022
---
We are so pleased with our 2 Adirondack chairs and stools. They are beautifully and thoughtfully made and will last us forever. The ordering process was easy with excellent communication and delivery was perfect. The chairs were very well packaged so there was no chance of damage and they arrived exactly when expected. Putting them together was very straightforward; we loved the extra thought that had gone into helping us to assemble them with the tins, cocktail sticks, etc.
The chairs are comfortable and practical - we do add a cushion if we are going to be sitting out for a while (dozing), but it's not really needed.
The whole process has been a joy, especially compared to a sofa fiasco we are currently experiencing with a major retail company.
Thank you for making them for us.
This lady from Rossendale purchased two Basic chairs with matching footstools in March 2022
---
Having just retired from 30 years in the furniture industry I believe when good things happen I should take 5 mins of my time to email to congratulate you on the beautiful quality and workmanship of the chairs.
Down to the regular updates you gave on the manufacturing window, excellent packaging to avoid transit damage, good assembly instructions and a lovely touch with the tin and hardware and especially the Union Jack Cocktail stick, brilliant.
The chairs have now got pride of place in front of the Vicarage for all to see
We supplied 2 Classic chairs to this customer in Derbyshire in April 2022
---
How often is "self-assembly" a pleasure and not a cheapening, painful experience?
From the moment I opened the first box, organised to arrive on exactly the day we needed by Ian, I knew I was going to enjoy building them! When do you ever find such inventiveness in design and build, obviously refined over time to make the packaging process take minimal space, with very little chance of movement during transit and therefore just enough packaging (virtually all recyclable) to protect them and no gratuitous use of materials. Once you have the composite parts out, you also see that the thought and attention to detail that feeds through into ensuring easy assembly of the very few major building-block pieces, with all the holes aligning perfectly and the few fixings fit-for-purpose. No nuts that run around as the bolts turn and then bruise into the wood here…these have been chosen to properly grab and spread the force out as you tighten them.
Our wonderful chairs are now on the balcony overlooking the Exe estuary, and to be honest it was a shame we only needed two as I enjoyed getting them ready so much! You will as well.
This customer in Devon received two Classic chairs in March 2022
---
Absolutely thrilled with my chairs, as is hubby (they were his 50th birthday gift from me).
The craftsmanship is exemplary and the signature of the maker on the underside of each chair is not only a nice touch but a clear sign of justifiable pride.
Yes I deliberated over the price - they are a considered purchase, but you get what you pay for has never been more true and I know these chairs will probably outlive me!
Ian communicated with me at every step and the products arrived well packaged and were easy to assemble.
They are now in pride of place with personalised cushions to finish them off!
I supplied two Classic chairs, and a footstool to this customer from Hertfordshire in September 2021.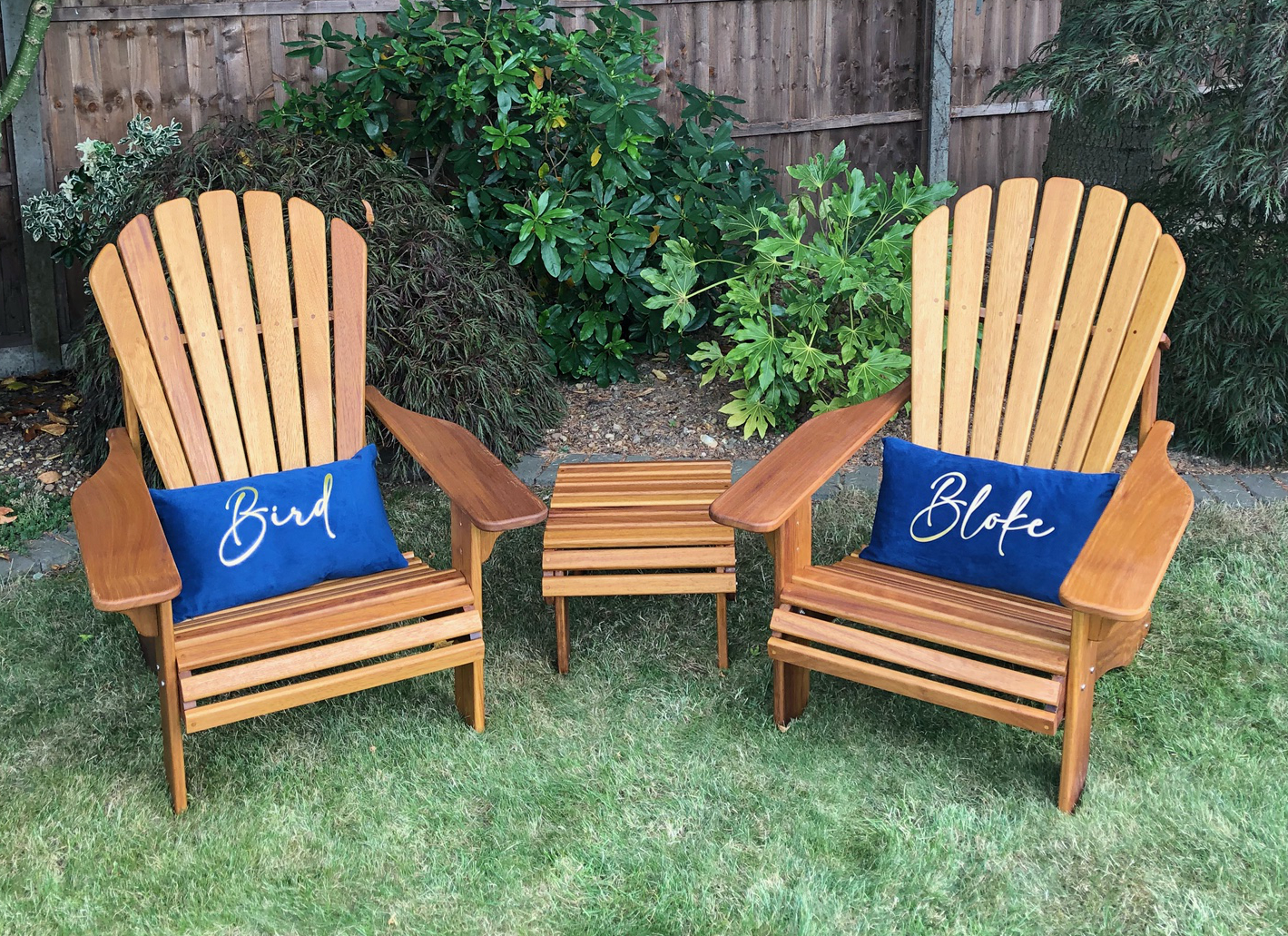 ---
Just placed this order for another pair of the most comfortable garden chairs ever + footrest.
We only have a small garden and the original pair of chairs are perfectly placed for morning coffee. However, this area becomes shaded later in the day.
Having created another small seating area last Autumn (for those early evening G&Ts) there was only one thing missing . . .
Looking forward to our delivery next month.
Best, Pete
This gentleman in Colchester ordered two Classic chairs, and a footstool in September 2017 and another pair of chairs in March 2021
---
Just wanted to say THANK YOU for the chairs.
Having assembled them last weekend we were able to enjoy a coffee, albeit a little chilly, but sat in the sunshine.
The chairs are so comfy. Looking forward to lazy sunny days soaking up the sun and a G&T (or2) in the evenings.
The chairs are perfect and so well made. Beautiful wood. Our landscape gardener commented on the wood whilst the chairs were still boxed. Neighbours have already commented. I would not hesitate in recommending you.
A very happy customer.
This lady in Staffordshire purchased two Basic chairs, in February 2021
---
My chair, stool and table have arrived and I've assembled them so I just wanted to take the time to send a quick thank you.
The entire process, from order to assembly, has been a pleasure from my end.
The quality of the workmanship, material and assembly instructions and so on are second to none.
As you might gather - you have a very satisfied customer here. I will definitely recommend friends and family to invest in garden furniture from you.
Many thanks, Mike
I supplied a chair, footstool and a coffee table in February 2021 to this gentleman in Oxfordshire.
I wanted to drop you a quick note to say how pleased we are with the chairs. Beautifully made, carefully packed, clear instructions, and a real joy to own.
Thank you. All the best, William.
This Essex purchased 2 chairs in September 2020
Good morning, I just let you know the chairs are arrived and I built them , they are perfect , we really love them your craftsmanship and attention to details is super , they are so good my mother in law is looking to order 2 of them with a coffee table!!
Thanks again, Nicolas
I supplied 2 chairs in August 2020 to this customer in Glasgow
---
We received the chairs ahead of our scheduled delivery slot and to say we are delighted is an understatement. The look, feel and above all quality is exceptional. We can't find fault with anything other the weather needs to improve so we can enjoy them more. Speaking with Ian was a pleasure and hearing his advice on how to treat and look after the chairs was reassuring as it has confirmed our decision to select Adirondack to supply them was the right move to have made. The inscriptions on the back are the cherry on the cake and although we bought them for ourselves our neighbours have been very vocal with their approval and appreciation of the chairs. If anyone is considering to invest in these I would say do it, you'll only regret you never knew about this company sooner.
Trevor and Paul Edinburgh
This customer in Edinburgh ordered 2 chairs and a coffee table in May 2020
---
Hello Ian, Our chair arrived yesterday and we are thrilled with it! Thank you so much

Years ago we bought one from you and have been meaning to get another for ages as it is sooooo comfortable. The lockdown and the sunshine has made us get on with it!
Can't remember what year we bought it...maybe you have a record. Anyway we have loved it and it is still 100% sound. So, great stuff.

Feels good to buy quality British.
I attach a photo of the two....guess which is the newbie!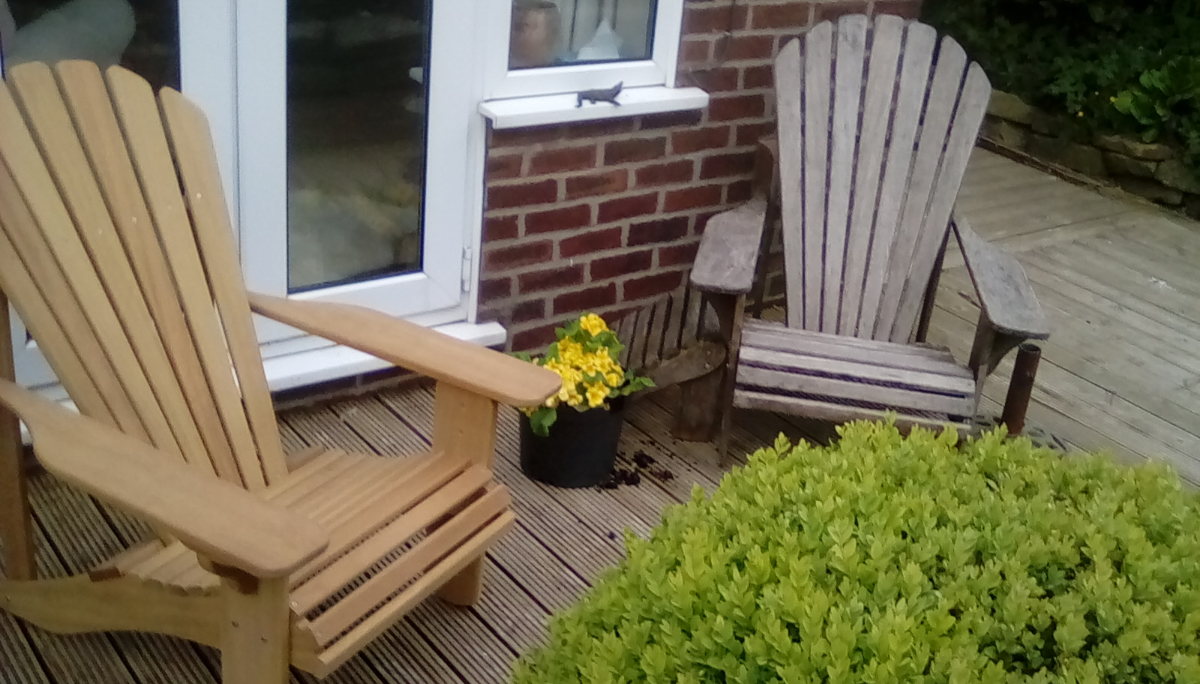 We sold a new Basic chair to this lady in Manchester in May 2020. The original one was supplied in July 2011.
---
...Just wanted to say that the chairs are beautiful! So so delighted. Thank you so much. We have assembled them and the footstools and table and as the sun has just come out here, my husband is already ensconced with a book. Your work is outstanding. Thank you again. Stay safe and take care. Gill.
We supplied a set of Iroko furniture to this lady in Alnwick in April 2020
---
I've just assembled the chair and it is absolutely wonderful! I knew it was a classic design but it's far more comfortable than I even imagined. The oak is glorious, the well finished surface makes it soft and creamy; and I'm really pleased you discreetly placed the makers name on the underside.
Thank you so much for this beautiful piece!
Mark
This gentleman in Kettering purchased a classic Oak chair in April 2020
---
Many thanks for the beautiful chair which I received today. I love it! We'll be recommending your company to anyone who admires our chair once we're all allowed to visit each other again. In the meantime it will make my lockdown experience that little bit more joyful.
I supplied a Classic Chair to this Oxford customer in early April 2020
---
I just wanted to say our furniture arrived this morning and it is as beautiful as I'd hoped it would be. Really well engineered and went together so easily. My husband also appreciated the tins the fixings came in - they're going straight in his workshop. We are looking forward to lounging on them this Summer - just need to build a patio now. Thanks again. I hope my sharing them on social media nets you some orders.
This lady in Bexhill sent this email in May 2019
---
Hi Ian
I just wanted to let you know how delighted I am with my new garden furniture, which arrived yesterday and is now in situ on my terrace. The two classic Adirondack chairs and footstools look fantastic – and are so comfortable! I am really looking forward to sitting outside with a cup of coffee reflecting on the garden!
The craftsmanship and build quality of the items is also really impressive and I love the care which has clearly gone into creating them.
It is also the smaller details which make ordering from your company so special:
The email updates on the manufacturing process and liaison on delivery date
The careful way the furniture was packed for shipment
The ease of putting the items together - assembly was a breeze
Even the small personalised tins containing the screws and Union Jack flag cocktail stick to assist assembly!
Beautiful - and worth every penny. I will certainly recommend you to my friends and family.
Thanks once again!
Luci
We supplied two Iroko chairs with matching footstools to this lady in Essex in January 2019
---
Thank you!
The furniture arrived in good time-huge thanks for organising it. And it's all BEAUTIFUL!!!! Impressed with each and every aspect of your business and the way you do things. The quality and meticulous attention to detail is noticeable everywhere, even down to the fun of having a Union Jack cocktail stick to assist in the assembly. Made us smile! There have already been "ooh's & aaah's" from everyone that have seen them.
We supplied two Iroko chairs to St Ives in Cornwall for this happy customer in May 2018
---
My chair arrived this morning and I've just constructed it (brilliant, easy to follow instructions). I love it.
Not sure I'll be leaving my chair for the duration of the summer it's so comfortable! Definitely the best item of garden furniture I've ever invested in. Thank you.
We supplied a Iroko chair to this lady in Eastbourne in July 2017.
---
I just wanted to write and say that the chairs and footrest have all arrived safely in Italy. Thank you. We picked them up last Thursday, assembled them Friday and have been thoroughly enjoying them ever since in the wonderful weather we're having here. They are stunning and so, so comfortable! I thought you might appreciate a picture of them in situ…
Thank you once again for the beautiful chairs and excellent customer service.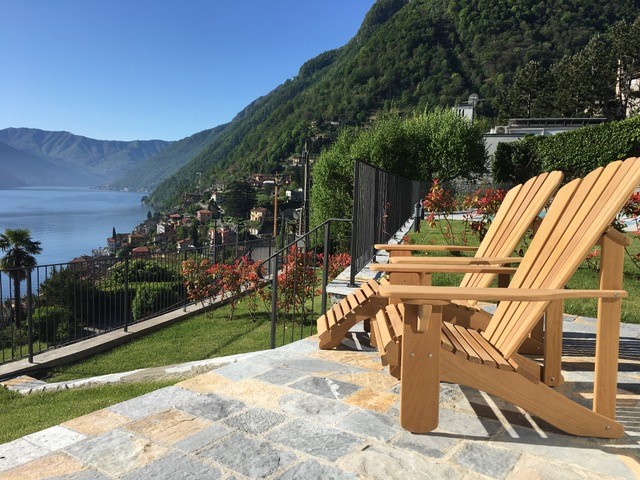 We shipped these Iroko chairs with a matching legrest to a quie stunning location on Lake Como in Italy in March 2017.
---
Ian, just back from a holiday week in the lakes.
Opened the boxes , assembled chairs and footstools - so straight forward!
Margo ( birthday girl) is delighted, the chairs are works of art, beautiful and very well made.
Thank you !
We supplied 2 Iroko chairs for a birthday gift in March 2017.
---
Wow! Fantastic comfort!
Absolutely beautiful chair. Bought it in Iroko and the colours in the wood are lovely, even when wet. Easy to assemble. Worth every penny and going back for a second one. The best ever garden chair and so comfortable. Absolutely love it!
This kind review was left by an Edinburgh customer who purchased an Iroko chair in August 2016 .
---
Thank you SO much for my gorgeous chair and footstool which arrived today. I couldn't wait to get home from work to try it out. It's taken pride of place in the garden and looks fabulous. I've had back surgery, so finding a comfortable chair is quite tricky but this is amazingly comfortable and I know that I'll get so much pleasure from using it. It is so beautifully made and thank you for making it such a pleasurable experience ordering from you.
We supplied a Classic Oak Chair with a matching footstool to this lady from Bristol in August 2016 .
---
Dear Ian, just a note to say how delighted I am with the chairs. They are so easy to put together. They are beautifully crafted and worth every penny. I love them and wouldn't hesitate to recommend you to anyone wanting these super crafted, comfortable, beautiful chairs.
We supplied this happy customer in Worcestershire with some Iroko chairs and footstools in June 2016 .
---
The birthday boy is absolutes thrilled with his chairs which are so beautiful! Thank you so much for your careful and expert craftsmanship. He is delighted as am I....and the personalised letters are perfect.
This customer in Hampshire purchased 2 Basic Adirondack Hardwood chairs in Iroko with a personalisation for her husband's birthday.
---
Just wanted to send you a quick message to say how pleased we are with our Adirondack chairs. They arrived bang on schedule on Friday and the delivery man was happy to put them in our safe place them after I left a note as you suggested.
The furniture is amazing, really well made from beautiful wood and very easy to put together. If it weren't for the fact we've decided to oil them I'd be sitting in one of the chairs now!
We're very happy customers and will definitely recommend you to others. Thanks again for getting them to us so quickly.
We supplied two Basic Adirondack Hardwood chairs in Iroko to this happy customer in Stockport in April 2016
---
I just wanted to let you know how much we love our chairs. I am such a fuss pot about how things look, and my husband Warren is an ex-naval engineer so for him it's all about the build quality and finish, and we have both been blown away by the obvious care and attention to detail - they are truly beautiful, and incredibly comfortable. All we need now is some nice weather…!
Thanks very much for your help, and the excellent communication throughout the buying process - it really has been a pleasure.
Two Classic Adirondack chairs in European Oak prompted this kind email from Cornwall in early 2016
---
Just a note to say thank you so much for the chairs. My order was processes with speed and courtesy all the way.
A month in the garden now! Superb craftsmanship, so comfortable to sit in and fantastic to look at every evening as I drive in home.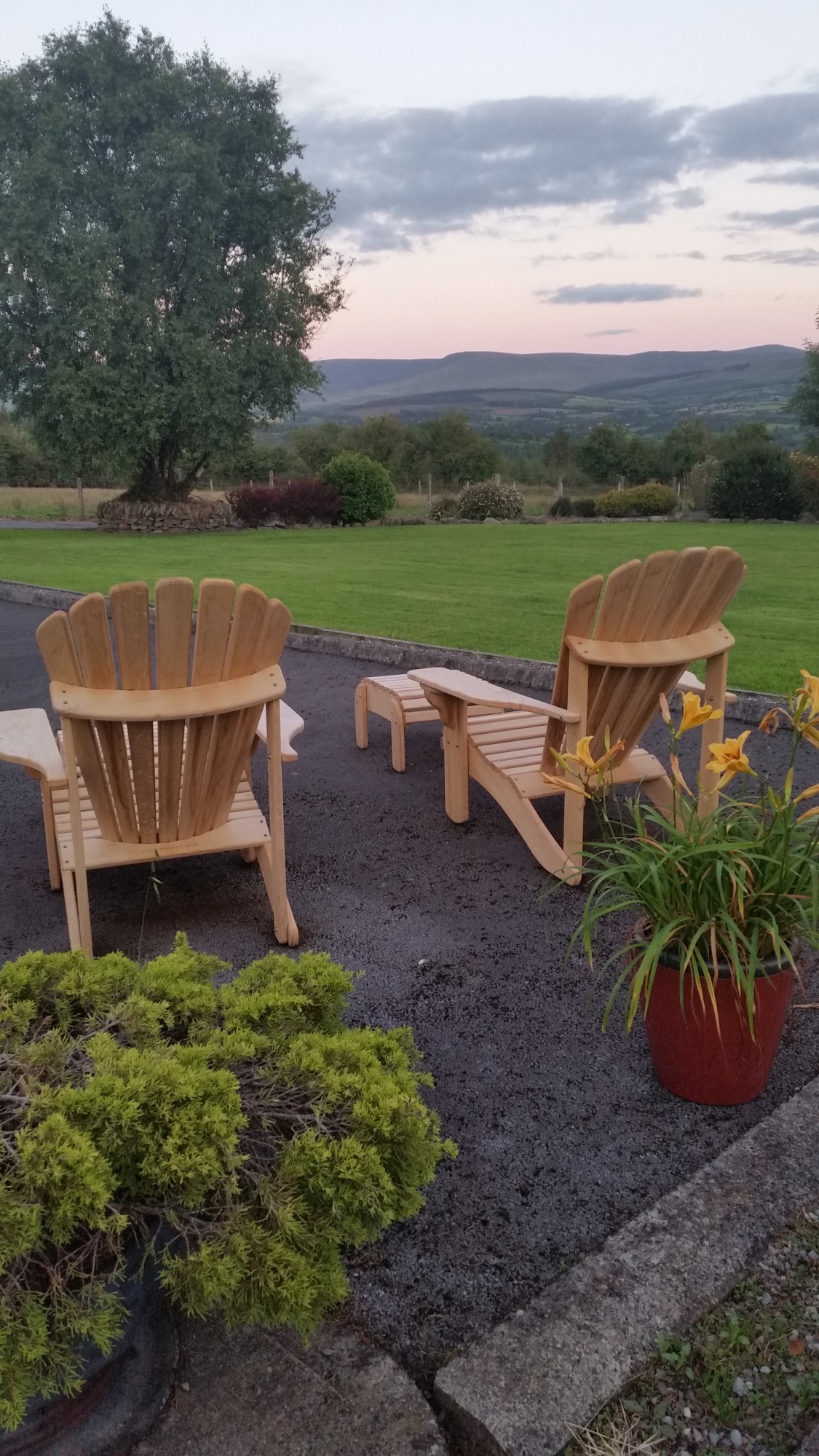 We shipped two Classic Oak chairs to County Tipperary at the beginning of July 2015 for this Irish lady. She was kind enough to share her wonderful view in this photo.
---
Just received and assembled our two Iroko classic chairs and footstools and we are DELIGHTED. They are beautifully made and finished and so easy to put together. AND of course they are beautifully comfortable. Thanks and thanks again
This lady in Bromley received two Classic Iroko chairs with footstools in July 2015
---
Hi there. Just a quick note to say a big thank you. The 2 x classic chairs arrived today. Mrs Ryan is already sunning herself with a massive smile on her face ☺ Awesome.
Two Classic chairs in Western Red Cedar seem to have found a good home with this Nottingham customer in April 2015
---
Just to say the chair arrived safely, is now built and we are very pleased with it.
Top quality - well packaged, easy to assemble and a good solid, comfortable and attractive finished chair.
We supplied a Classic chair in Iroko to this customer in Cheshire in April 2015
---
Dear Ian
We have just assembled our chair and are delighted with it.
The quality, design and finish are exceptional. I hope we will find space for another one! Many thanks.
We supplied a Classic chair in Oak to this lady in Flintshire in October 2014.
---
Where can I start to say a big enough thank you! The oak Adirondack chair and leg rest are simply beautiful and the carved name was exquisite. Such craftsmanship! It far exceeded my expectations
My husband made the chair up at our house and I tried a gift bow and thank you card on to it before we carried it over and sat it on the porch patio at James' house. The look on James' face was priceless - it was such a surprise!
As well as being my singing teacher, James is also a teacher of the Alexander Technique and the Adirondack design exemplifies all of the posture principles, he was thrilled at such an unexpected gift. It was wonderful to sit in and will give him such pleasure in the future.
Thank you so much for such a pleasant transaction, I really appreciated being kept informed at the various stages of build and delivery. So glad I found you!
This lady in Kilmarnock purchased a Classic Oak Chair with some engraving as a gift in August 2014.
---
Yesterday we sat in our Adirondack chairs and raised a glass to Thomas Lee who invented them and to Ian Barley who made them with such exquisite precision and craftsmanship.
Nice to be appreciated by this customer just North of Inverness to whom we supplied 2 Classic Oak Chairs with footstools in August 2014.
---
Loving our new chairs in sunny, for the moment, Luxembourg. They exceeded expectations.
We sent 2 Classic Iroko Chairs with matching footstools to this lady in June 2014. You can see them in our Gallery.
---
Just wanted to let you know how pleased I am with my new chairs. They are wonderful and greatly admired by my family and friends.
Many thanks for a great product.
This lady in Bristol purchased 2 Iroko Chairs with footstools in May 2014.
---
Ian, thank you for our wonderful chair which you delivered. It's beautifully made and extremely comfortable. Delighted with it and the great service. Thank you!
We supplied an Iroko Chair with some engraving on the back to this lady in Weybridge in May 2014 .
---
They are beautiful - so solid, but also fluid and lovely to look at, as well as being very comfortable to sit in! We had Canadian friends here this weekend, and they too admired the craftsmanship. Many thanks, and I'm sure we'll be in touch about a few more
We supplied 2 Iroko Chairs to this lady in Norfolk in May 2014 .
---
Adirondack chair arrived safely. Quality superb and all that we had hoped for. After many years assembling items of all sorts the minimal assembly required was a blessed relief. It was readily apparent that the chair had been fully assembled before being partly disassembled for shipping. Everything fitted perfectly with no fettling required! Very strong and comfortable with a lot of little touches (carefully contoured seat - screws covered by wooden plugs and arms taylor made for supporting the drink of your choice!) - very evidently a lot of thought has gone into this iteration of a famous design to produce the best possible result.
What initially caught my attention on your website was the higher than usual back brace for the back slats - a lot of Adirondack plans (as I am sure you are aware) have this lower at the level of the arms - yours is stronger more rigid and from the back more attractive. Rather like the best cars - the chair looks good from any angle. Your quite evident integrity is reflected in your work.
Thank you so much for this lovely chair. We will be ordering a second one soon but a new settee and the recovering of an old one take precedence - we shall have to fight over this one in the meantime!
This email was sent to us in April 2014 after supplying an Iroko Chair with a legrest.
---
Just a quick note to say that we received the chair and stool today.
The items both beautifully made. I had an enjoyable and stress free time putting them together, the best self assembly furniture ever! They went together like a dream, your pre assembly is a very good idea!
The design is very well considered and the quality is first class. We are really delighted with them, having waited years to buy, we now wished we had dived in sooner.
Happily sitting in the chair as I write this.....Here's to a long hot summer!
We supplied an Iroko chair and footstool to this Leicestershire based customer in April 2014
---
I'm happy to say I received my chair & stools, as I'm now a proud owner of master crafted Adirondack chair, the build quality is second to none, I love the beautiful personalised engraving you've done, its amazing, and just as you said, It didn't take much effort to assemble the chair as your step by step assembly instructions are so very easy to follow
I've never ever sat in such a more comfortable wooden chair before, and to the point I don't think I'll even need cushions, I know I'm going to have many comfy days resting in my new chair, chilling out with a nice glass of wine on those warm sunny days enjoying my garden even more so now.
So my new chair now proudly sits in its prime place of honour in our garden, and as soon as I can I will be ordering another one for my husband as I can see him sneaking off snoozing with a book In "my chair ".... so many thanks, I'm a happy bunny
We received this email in March 2014 after supplying an Oak Chair with a footstool and legrest.
---
Many thanks for delivering our two Adirondack chairs this week.
May I say that we are really delighted with them. I think they are brilliantly made, perfect in fact and I'm sure they will give us many years of pleasure. Your service was excellent and I want to wish you every success with it.
We supplied 2 Basic chairs to this customer in June 2013
---
We just wanted to let you know how delighted we are with the four chairs that we bought from you. You also kindly delivered them to us in time for the Bank Holiday which was very kind.
The chairs not only look great, but are the most comfortable garden chairs we have ever sat on, it is hard not to spend all day in them! Friends have also admired them for the same reasons and we have gladly recommended you.
We hope to add to our collection in the future.
Our thanks again.
We received this email from a local customer in May 2013. We had supplied four Classic Iroko chairs
---
Our chairs came today as you said they would, well packed, I could not wait to put them together, so easy to put together 15mins later we had a A1 chair, 15mins later mine was together , that afternoon all jobs cancelled while we sat back in the sun & dosed. Yes we had seen cheaper, but these are GREAT A1. Thinking of buying two more for our conservatory. Keep the quality up .
This message was sent via the website at the end of April 2013. We supplied this Essex customer with two Classic Iroko chairs
---
Subject: Feedback
Message: came across you on the from Britain with love site, we bought chairs from you 10 years ago, and are as solid as ever!
kind regards
This message was sent via the website in April 2013. We're glad that the two Classic Iroko chairs we sold this lady in 2002 (so it's really 11 years) are giving good service.
---
Hi Ian, just a quick note to say that the chairs were delivered yesterday. No problems with assembly. I enclose a photo of them in position. Thanks again - great product.
We received this email with the title "Impressed with the quality of the chairs". You can see them in situ in the gallery or here
---
Hello,

We bought three chairs a couple of years ago. They are just beautiful, very comfortable on our deck facing the Matterhorn in Crans-Montana, Switzerland. Thank you
We supplied this customer in Switzerland with 3 Iroko classic chairs - you can see the photo she sent to accompany the message in the gallery or here
---
Hi Ian

Chair arrived on Tuesday, its fantastic love it. Well done getting it here on time. Starting now to save up the cash to get myself one All the best
We supplied a Classic Chair in Western Red Cedar with a matching footstool as a birthday gift on behalf of this customer in Northern Ireland.
---
I just wanted to let you know, rather belatedly I know, how thrilled we are with the chairs you supplied. They arrived individually and well packaged and were simple to put together. They are wonderfully sturdy and a delight to use being both beautifully comfortable and very handsome to look at. Although we bought them for the garden, they are currently in our summer house where they look very much at home. Maybe we will have to order some more for the garden one day!
We shipped 4 Classic Chairs in Iroko to this lady in Jersey
---
Just to let you know that the chairs arrived safely yesterday morning and I assembled them last night. They're now sitting very nicely next to the ones we bought in 2009. I'm surprised how well the older ones have aged as when we put the next to the new ones there really isn't that much difference apart from a bit of sunbleaching!

Thank you for a top job again
We supplied 2 more Basic chairs to match the original ones that are shown in the first three pictures on our gallery page.
---
We finally assembled our chairs yesterday! Sat back and enjoyed the evening birdsong!
They are gorgeous!
Two Classic Oak Chairs with matching footrest have found a good home.
---
Just to say the chairs arrived on Wednesday as promised. My husband put them together easily and they are now in pride of place on our new Cornish deck. They look great and we are delighted with them.

Thanks very much indeed - great service
Two Classic Cedar Chairs supplied to this lady.
---
I thought I would let you know that the chairs have just arrived, my husband has assembled them and we are sitting on them in the sun! We are thrilled to bits with them and are very impressed with the quality. Thank you.

We look forward to receiving the stools I ordered yesterday - hope this sunny weather continues!
We supplied 2 basic chairs to the Wiltshire customer.
---
Just wanted to thank you for the excellent service and high quality furniture. We assembled it when it arrived and have already tried it out. The chairs are very comfortable and the armrests ideal for holding a wine glass! A very stylish addition to our garden. Thanks again.
We supplied 4 basic cedar chairs to this lady in Banbury.
---
Thank you Ian for the beautiful chair. I love it.
This basic chair that we supplied seems to have hit the spot.
---
Just a little note to say how thrilled my husband is with the chair we received this week, it is SSSOOOO comfortable and is a beautiful piece of furniture. Thanks again
We supplied this lady with a classic chair.
---
I just wanted to drop you a line to say how much I love my Adirondack chairs and foot stools. I've had them now for a couple of weeks and just managed to get them painted and sit in them the once before the rain set in !! They are wonderful and we were really pleased with how easy they were to put together, all the screws lined up properly ! They also arrived the day after you shipped them which was an added bonus! So, once again, thank you.
These Basic Cedar chairs traveled to Reading and it sounds like they have found a good home
---
just a quick email to say how thrilled I am with my new chair - it is absolutely brilliant - perfect with a cup of tea!
---
I received the above chair on Tuesday and just wanted to say how pleased I am with it. I'm particularly pleased with the finish and look of the chair, the proportions are just right and really look good in my garden against the backdrop of a large oak tree.
This lady from Essex ordered one of our basic Cedar chairs.
---
Thank you very much for the classic western red cedar chair. William Morris said you should have nothing in your home that you do not believe to be beautiful or know to be useful and this chair qualifies on both counts. We're fighting over who gets to sit in it.
Also it smells wonderful.
We built a Classic Chair in Western Red Cedar for this lady from Wiltshire.
---
Finally I have time to send you a mail to say how well the 5 Adirondacks you made for us in April have settled in at the bottom of the garden. They have come through several gales and haven't moved an inch, and are now weathering into a lovely colour. They are our favourite place to sit and watch the sea and one of our daughter's favourite places to play.
This customer has a spectacular cliff top garden and we are very pleased that these chairs have found a good home there.
---
One of my clients purchased two of your chairs for her newly designed and constructed garden. As a designer I was very impressed at the look and comfort of the chairs, and they fit in really well with the scheme.....they really do look something else (rather New England) and have, unwittingly become the focal point of the garden
Received by us in an email.