Florida Range
Florida range furniture is a little more upright and a bit higher off the ground. This means that you can have all the comfort and style of an Adirondack Chair where the low height of a normal Adirondack chair may be inconvenient.

We originally designed this chair for a customer with some mobility restrictions but since then we have also supplied it where customers were looking for a chair suitable for dining or in one case where a chair on a balcony with a sea view needed the extra inches to see over the parapet.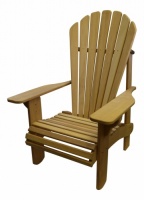 Florida Adirondack Chair in Iroko£325.00
With a slightly higher seat and more upright position the Florida chair is ideally suited to anybody who wants a chair that is a little easier to get into and out of.